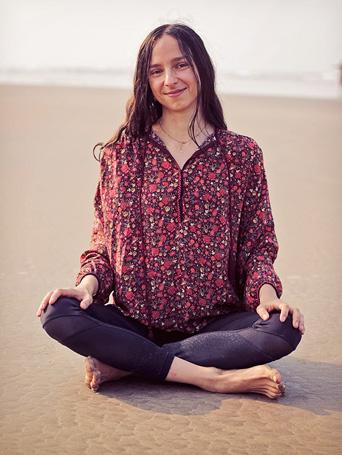 [EN]
I have been interested in Indian culture and yoga from a young age when growing up in Poland. After practising yoga by myself for some time, I started taking Hatha yoga classes. I established a daily practice when I discovered Ashtanga Yoga in 2007 in Poland.
When I arrived in France in 2009, I continued the practice with Gérald Disse and Linda Munro with whom I did the teacher training in 2010 and I started teaching in their studio very regularly that same year. For over 5 years and until March 2020, I conducted the Mysore Morning Practice 5-6 times a week. At the end of this period I started teaching on my own and recently I give daily yoga classes for the association Wasko Yoga.
My teaching activity in Paris has enabled me to participate in numerous workshops and trainings provided by the most recognized teachers passing through the capital. Since 2012, every year I have spent several months in India to deepen my practice and my knowledge of yoga. I have studied there under different yoga teachers, such as Rolf and Marci Naujokat, Sharat Jois and David Garrigues, and I completed the Ashtanga third series under the latter.
My parallel  Iyengar yoga practice inclines me to pay special attention to alignment and intelligent and methodical sharing of the practice. In my rigorous yet non-exclusive teaching I also rely on restorative yoga and pranayama for which I was trained and that I practice regularly.